TriggerShims.com
Ruger Double Action Revolver
Manufacturer of
Trigger Shims Brand
American Made Gun Shims
Gun Smith Supplies
Since 2008
Hi Lance! Well I finally found a few minutes to install my shims and I must say that my Super Redhawk Alaskan feels like a different gun! Absolutely Amazing Difference !
Thank you for a Great Product and Great Service! I will spread the word!
Nick in CA
Dear Lance,
The shims you sent me are just what I needed, my GP100 match champion is now like a fine oiled sewing machine! I can't thank you enough, God Bless, and I will be one of your customers for a long time!
Oh, the outside diameter on the hammer shims really stabilized the hammer side shake, it drops dead square now. I am sooooo happy, well God Bless, Yours Truly, Bob in NY
Ruger GP100 Match Champion
Hi Lance, the Hammer Shims came in yesterday. I installed them last night on my Ruger Match Champion and they work great. They are a little larger on the OD than the shims that came in the gun and this has really helped stabilize the hammer - no more rubbing on the frame and the pull weight came down about half a pound on my gauge. I am very pleased. Thanks for a great product!
Tim in TX
Click Here for Customer Reviews of the RDA Shim Kits
Hello Lance, A few years ago I ordered a custom set of trigger and hammer shims for a Ruger GP-100. They installed easily and made a huge difference in the feel of the action. It feels like the gun's internals have been polished when it's just some inexpensive shims! I also installed a spring kit brining my investment to about $25, and it feels like I had a gunsmith do an action job! I'm very impressed with your products. I've sent hundreds of rounds down range since adding the shims and springs, and everything is still running great. I'll be purchasing an SP-101 in a few weeks, and will be measuring it for shims and springs as soon as I get it home. Thanks again for producing such a great product.
-Aaron in Michigan
Hi Lance,
I have finally found time to install the Hammer Shims in my LCR-X. They fit perfectly and work smoothly. Thank you for a great product.
Lee in FL
Lance,
Just to let you know these shims that you sent me work just great for the Ruger LCP hammer.
Bill in MI
SP101 Trigger Job Guide
by Kevin Wilson
Click on the link below to open Kevin's Excellent Trigger Job Guide Web Site Page in a new window.
---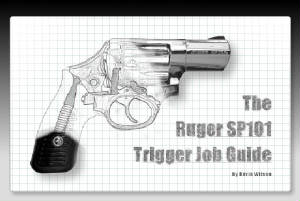 Step by Step Guide on Disassembly and Polishing
SP101 ~ GP100 ~ Super RedHawk / Alaskan and Redhawk Revolvers
Kevin Wilson's Trigger Job Guide
Applies to all Large Frame Ruger
Double Action Revolvers
---
*************** Review **********************
Lance and Tammy,

My local gun shop ordered a Ruger Sp101 for me and when it arrived I was shocked at the terrible trigger on the little gun. Besides having an over-weighted mainspring and trigger return spring, the action was rough and gritty.
I already had a 10# Wolff mainspring and an 8# trigger return spring. I replaced the factory springs and immediately noticed a trigger-pull improvement but the action was still rough and gritty. I decided to do the SP101 Trigger Job that was posted online by Kevin Wilson to smooth things up. After doing so, the action was smoother but It wasn't as nice as it could be.
When looking at Kevin's preliminary information he referred to installing hammer and trigger shims and listed your company as a source. I didn't know if I wanted to go that far but after I had done all the sanding and polishing and re-springing the little revolver, I felt the trigger could still be better and shims could help.
Since I didn't know the shim sizes needed, I ordered the #RDA-Pak GS-30 Piece set. They seemed to be shipped almost before I finished the order. (Your shipments are fast.) The #RDA-Pak GS-30 Piece set gave me plenty of thickness options (and plus possible spares for other guns).
Using the excellent video showing how to install both the trigger and hammer springs, I completed the installation in no time at all. I settled on .002 trigger shims and .008 hammer shims. The shims completed my trigger job. That final tweaking made a good trigger great. I feel the shims were the icing on the cake - no more rough and gritty action.
To test my efforts, I took the little revolver to the range and cranked off 50 rounds of Federal American Eagle 130g ammo without a single malfunction. It performed exactly how I wanted: smoothly and accurately. I was amazed that a small amount of financial investment along with a little time, effort and good instruction, turned good gun into a sweet shooter.
Thanks Lance and Tammy,
Sincerely, Bart in Kentucky

**********************************************
Cylinder Disassembly for Cylinder Shims
You can purchase the bit to fit slotted screws in Ruger Double Action Revolvers
at Brownell's at - https://www.brownells.com/gunsmith-tools-supplies/handgun-tools/action-frame-tools/ejector-tools/ruger-double-action-screwdriver-set-prod22138.aspx
You can find a Home-Made Tool Video here - https://youtu.be/rw5kzPAuk3w
You can find Disassembly Instructions here - https://youtu.be/WwrSW2wbdhY
You can find further Disassembly and Tool info here - https://youtu.be/rw5kzPAuk3w
If you enjoy these videos, leave Mr. Olemite a nice comment, and say you found
his video's at TriggerShims.com
If you don't like his videos, remember what your Mother should have taught you...
"If you don't have something nice to say, don't say anything at all"
We Cheerfully accept Cash, Money Order, and Credit Cards through our Secure PayPal Check-Out
All Website Orders are Shipped the Next Business Day
I will Ship Shims to USA, Canada and International
Gun Parts Shipped to USA Only

"American Made Gun Shims" - GunShims.com - TriggerShims.com
and
TriggerShims is a Trademark
of
Shively Sales
Michigan Center, Michigan
Copyright 2008 ~ 2020
BY PURCHASING SHIVELY SALES PRODUCTS
YOU ASSUME ALL RESPONSIBILITY FOR THEIR SAFE INSTALLATION AND USAGE.
YOU RETAIN ANY AND ALL RESPONSIBILITY FOR YOUR OWN ACTIONS. Be Safe!!
If you have any questions or safety concerns, see a qualified Gunsmith.

Website Problems contact Webmaster@TriggerShims.com