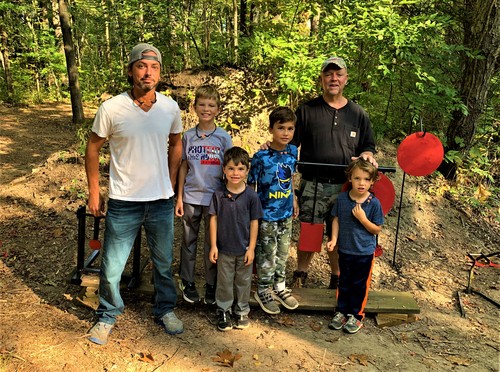 September is TriggerShims
Take a Kid Shooting Month
"Children Should be Educated and Instructed in the Principles of Freedom." ~ John Adams (1787)
TriggerShims
GunSmith Tools and Supplies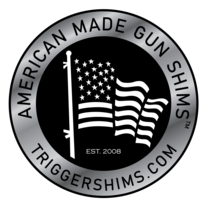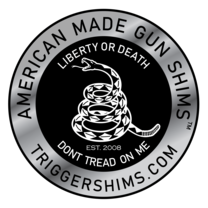 Rebellion Against Tyrants is Obedience to God
~ Benjamin Franklin ~
Manufacturer of
Trigger Shims Brand
American Made Gun Shims
- Home of -
TriggerShims.com
GunShims.com
ShivelySales.com
MichiganCenterOutdoors
SmallShims.com
Gun Shims
Gun Smith Supplies
Since 2008
WWG1WGA
We Manufacture the Widest Selection of Gun Shims to be Found Anywhere on the Planet
100% American Family Owned
Shively Sales - Manufacturer of
TriggerShims Brand
Gun Shims
in
Michigan Center, Michigan
"Better to be poor and honest than to be dishonest and rich." Proverbs 28:6

God Bless the U.S.A.
American Made Gunsmith Tools
God Bless America
Live Free or Die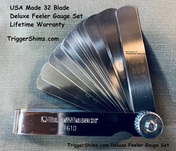 The easiest way to Measure your Trigger or Hammer assembly is with a simple blade type feeler gauge.
I sell a Nice U.S.A. Made set you can include in your orders.
It comes with a Manufacturers Lifetime Warranty
This 32 Blade Gauge will measure from .0015" up and is perfect for general use.
The price is $16.95 and includes Free Economy Shipping
New Remington and Ruger Bolt Tool
New Remington and Ruger Bolt Tool - For Disassembly of Remington 600, 700 and Ruger M77 and 77/22-17 Rifle Bolts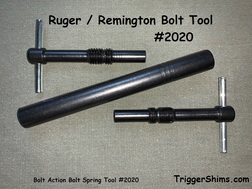 As of 2020 ~ I have reconditioned another lot of Menck Bolt Tool parts and have a fair quantity of tools now on hand
All Tools are Top Shelf Quality, The #2020 Menck Remington and Ruger Bolt Disassembly Tool,
Available Only at TriggerShims.com
7-1/2" steel tool makes bolt disassembly simple. For Remington 600, 700 and Ruger 77 bolt action rifles.
Eases Disassembly Of Firing Pin & Spring In Remington 600-700 Series and Ruger M77
One end for Remington 600-700 series bolts including XP-100 and 40;
The other end for Ruger M77 and 77/22-17 and 357/44 Caliber Models
Handscrew compresses Striker Spring until cross pin can be driven out
Specially Designed to Safely Compress Without Damage to Firing Pin on 600 / 700 and M77 Models
This tool would easily cost 1.5 times our asking price to produce at today's manufacturing rates!
Own the Original Tom Menck Remington and Ruger Tool,
Designed and Originally Manufactured by a True Craftsman and Journeyman GunSmith, Tom Menck
I literally bought buckets of parts from Menck Estate, and this year (2020) I had some missing parts made and resurrected this Fine Old Tool
I have a mixture of these, some with black cross handles, some silver, you will be shipped what is available. I have had all parts freshly treated with Black Oxide for 2020, a photo copy of the Original Instructions included, and also included my own 2" hardwood dowel spacer specifically for the Ruger 77/22-17 and 357/44 models ~ You do NOT need this tool to install Our Bolt Shims
"This Bolt Tool is a Must-Have to change the Striker Spring on these Bolt Action Rifles, Makes Bolt Disassembly a Breeze, Well Made and Worth Every Penny!"
~ Ralph the Gunsmith in MI
Buy Two or Three and Save $$$!
Free Shipping ~ USA Only ~ Guaranteed In-Stock Order Now!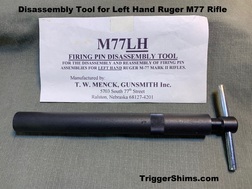 NEW ITEM:
TriggerShims Bolt Tool for M77 Left Hand Rifles
This is my M77LH Bolt Tool - to my knowledge,
this is the only LH Bolt Tool made for these rifles.
Used to disassemble the Firing Pin and replace the striker spring
Works with Ruger M77 Mark II Left Hand Rifles
Free Shipping ~ USA Only ~ This is a LEFT HAND Tool
TriggerShims Logo Aluminum Signs
USA MADE
Durable Aluminum Garage Signs
USA Made by a Veteran Owned Company in Iowa
Your Choice of our Liberty or Death Snake or American Flag Logo
Tammy purchased this sign for me for Fathers Day, and I was so impressed with the Quality and Finish, I decided to offer these Veteran Owned Company USA Made Garage Signs to our customers
Sign comes with a single hole at top for hanging and measures 11 3/4" across
Also Available in 3", 6" and 8" sizes and without mounting hole ~ inquire
Item # 11.75" Logo-Sign
Drop Shipped direct to you from the veteran owned business Arrowhead Outdoor Products
High gloss aluminum with UV protective coating
Suitable for outside or inside use, Will Not Rust.
High quality detailed sublimated printing that becomes part of the aluminum
Premium Quality ~ Made in the USA
Click Here to Shop This Fine Veteran Owned Business - Arrowhead Outdoor Products
TECH TIP VIDEO:
Menck Bolt Tool demonstrated below on a Ruger 77/22 by Lance
TECH TIP VIDEO: Menck Bolt Tool demonstrated below on a
Remington 700 by Larry Potterfield
TECH TIP: Ruger 77 Striker Spring Installation
Ruger 77 Striker Spring Installation - $42.50
Installing the Striker Spring on Ruger 77 Rifles requires a Special Tool
The tool can be purchased from us, or you can send me your bolt and I will do it for you.
This is an easy straight-forward installation, I show you how in the Ruger Striker Spring Installation Video.
For the Folks who do not want to do this themselves, I offer this service; For a Flat Fee of $42.50 I will disassemble your bolt, clean it, Provide and Install a New Striker Spring kit, ($15.95) reassemble and lubricate, and Provide Return Shipping Post Paid - Insured. ($11.50)
To request this service, shoot me an email and I will send you shipping and payment details.
BOX~S&WTool
SMITHMASTER™
TRIGGER SPRING TOOL FOR S&W® REVOLVERS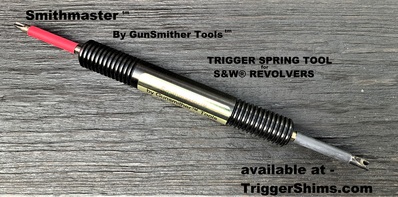 Have you ever experienced a Smith and Wesson® trigger spring flying past your eyeball, on it's way to heaven know's where ? Or perhaps you've jammed a makeshift tool into your hand while trying to install a S&W® trigger spring and rebound? Not a fun thing! Anyone who's worked on S&W's most likely has a memory or two of flying springs!
The SmithMaster™ takes the worry out of changing S&W® Trigger springs. Works on all J,K,L, and N Frame revolvers.
The SmithMaster™ is a unique, double ended tool designed for easy, trouble free removal and installation of the S&W® rebound/triggerspring assembly. One end of the tool allows CONTROLLED REMOVAL of the rebound/trigger spring.
The other end allows CONTROLLED INSTALLATION, the trickiest part of the whole operation. No more trigger springs flying out and getting lost! The Smithmaster™ completely controls the spring, for worry free installation. Great for routine maintenance, and trigger jobs; especially usefull for trying different weight aftermarket trigger return springs, for a lighter, smoother trigger pull
Man sized Delrin main body/handle has deep "Gripper Grooves" for sure control. Removal and installation tool heads are hardened tool steel for long life, and are coated to prevent frame marring. Approx. 8" OAL. Very Thorough Instructions included.
Click Photo Link for Smithmaster Trigger Tool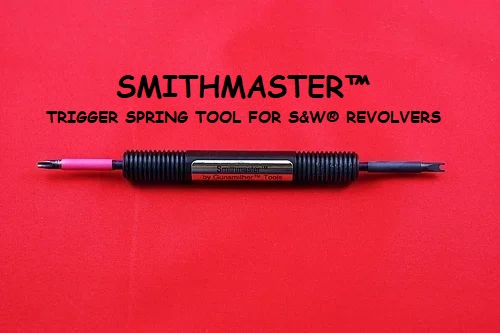 TECH TIP VIDEO:
GunSmither's S&W Revolver Trigger Spring Tool
Wolf High-Performance Target Loads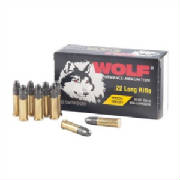 This is the ammo I use and recommend.
Five round groups in one ragged hole are possible with this ammo at 50 yards benchrest, as I have done it.
It may not be as consistent as the $15 a box stuff, but it fits my pocketbook when I want to make holes in paper!
Wolf 22 LR target ammunition is loaded with VihtaVuori powder prized by centerfire benchrest shooters for its consistent burn rates. The high-quality brass is formed using a proprietary manufacturing technique that maintains outstanding round-to-round consistency to help deliver consistent pressures and superb accuracy.
This ammo is sold and shipped through Brownell's - click the picture to go to Brownell's Wolff Ammo Page.
We hope you find what you are looking for here, but if not, Please click our Link to Visit Brownells.
TriggerShims is a Sales Affiliate with Brownell's and receives a small commision when you buy through our link.
Thank You!
BOX~ESU
SHIMS ONLY
$3.50 UPGRADE from ECONOMY SHIPPING ~ ~ USA ONLY
(Shims Only) Orders - Add USPS TRACKING $3.50 - USA ONLY
MOST Shim orders under $50 DO NOT include Tracking and are sent in a
White Business Mail Envelope - Orders OVER $50 Include Free Tracking
You can Upgrade to USPS Mail Tracking on your SHIM ORDER for $3.50
This Upgrade includes a 6X9 Bubble Pak Mailer and USPS Tracking
(our cost for Shipping and Packaging is almost $4)
THIS IS FOR SHIMS ONLY - ALL OTHER ORDERS Include this Upgrade


~Click the ADD TO CART button below to ADD USPS Tracking to your Shim Order
THIS IS FOR SHIMS ONLY - ALL OTHER ORDERS INCLUDE THIS UPGRADE
---
We Cheerfully accept Cash, Money Order, and Credit Cards through our Secure PayPal Check-Out
All Website Orders are Shipped the Next Business Day
I will Ship Shims to USA, Canada and International
Gun Parts Shipped to USA Only

"American Made Gun Shims" - GunShims.com - TriggerShims.com
and
TriggerShims is a Trademark
of
Shively Sales
Michigan Center, Michigan
Copyright 2008 ~ 2022
BY PURCHASING SHIVELY SALES PRODUCTS
YOU ASSUME ALL RESPONSIBILITY FOR THEIR SAFE INSTALLATION AND USAGE.
YOU RETAIN ANY AND ALL RESPONSIBILITY FOR YOUR OWN ACTIONS. Be Safe!!
If you have any questions or safety concerns, see a qualified Gunsmith.

I manage this site myself, Please Report Any Website Problems to;
Lance at Webmaster@TriggerShims.com
"We can't go home again because of the change in it and in ourselves, but it's still home, still part of us....
And that's a beautiful thought."
~ Thomas Wolfe